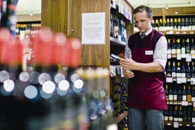 Comcash Classic has developed a powerful, yet easy-to-use Convenience Store POS software system for convenience store and liquor store operators to maximize their productivity and profitability.

Inside convenience stores and foodservice looms large, and its importance is growing.
The Comcash Convenience Store Software has been developed with the multi-format retailer in mind, synchronizing the retail and foodservice processes.

Comcash Classic provides a complete Convenience Store Management System for full inventory management with connectivity to vendors and the corporate warehouse.

This system allows you to tie multiple stores together to the Headquarters system, and uses a Microsoft SQL Server database to track your many thousands of SKUS.

You can issue purchase orders automatically when inventory runs low and use a wireless hand held data collector for receiving, ordering, or inventory counting.

Use customized reports to make sure you are always purchasing based on the best quantity discounts from your vendors.